Saturday, March 22, 2003
MARCHING
:
Against the War in NYC
We joined the march at 34th street and Broadway at 12 :30 pm. It took two hours to march along Broadway to Washington Square. When I left the Square at 3:30, marchers were still coming down Broadway into the park. Some of the slogans on the home-made signs:
Noo Yawk Sez No
Bush: Weapon of Mass Destruction
Who would Jesus Bomb?
We Mourn US Imperialism
Shock + Horror
Asses of Evil
Issues with Baghdad--or issues with Dad?
Loot the economy, plunder the environment, hid it behind a war!
Compacism
Support our Troops--Send them home
Little dicks grow up to be big dictators
Prune Bush
War--What is it good for?
It's all about the oil
SIGHTINGS
: Demonstrations are always filled with faces from the past.
On the way in, I ran into
Meredith Sue Willis
, a writer and old friend who used to work with me at
Teachers & Writers Collaborative
, and Carla C, who was a fellow AOL'er. After the march, in Washington Square Park, I ran into
Jessica Siegel
, the amazing journalism teacher who was profiled in
Sam Freedman's
book about a year at
Seward Park High School, and who so ably ran the
ArtsConnection
journalism program when I taught at Erasmus HS as part of the program. Trying to get into the bathroom at Barnes & Noble at Astor Place (and ducking out because of the endless line), I saw Judy K, a woman I went to
Camp Walt Whitman
with when I was eleven. I'd last seen Judy about six years ago, when we used to take Zack to Washington Park in Tribeca on the weekends--Judy and her family lived nearby. For some reason, I was thinking about her and wondering if she still lived in NYC--and there she was! My world often works that way.
THIS JUST IN
: News sources reporting "tens of thousands" at NYC protest. AP story snippet (filed 2:55 PM):
The crowd snaked for 30 city blocks, with demonstrators still joining the march at Herald Square even as the first marchers arrived at Washington Square Park in Greenwich Village. The marchers filled Broadway from sidewalk to sidewalk.

No arrests were reported, but police scuffled with some protesters on a side street north of the park.

Among those marching were U.S. Rep Charles Rangel, D-N.Y., singer Patti Smith, and actors Roy Scheider, Ossie Davis and Ruby Dee. Rangel said the marchers were anything but unpatriotic.
MY PERSONAL CELEBRITY SIGHTINGS
: Averil Lavigne, Eric Bogosian
MARCHING: Going to demonstrate against the war in New York City today. Will post more when I return.

JOKING: K-Mart Closure
All K-Mart stores in Iraq will be closing on/or before March 14th, 2003
After that, they will all become Targets
(Sent by Lita, my wonderful mother-in-law, queen of net jokes)

Friday, March 21, 2003
COMPARING: California versus New Jersey:
I've moved back and forth from New Jersey to California and back to New Jersey in the past three years.
This means that I constantly compare the two states.
Here's the latest comparision--the number and type of agricultural commodity boards, trade marketing associations that support the distribution and promote the consumption of specific foods:
Through my (California) Baker's Dozen group, I came across the web site of the
San Francisco Professional Food Society
.and learned that--California is the nation's number one agricultural and dairy state, and grows half the nation's nuts, fruits, and vegetables.
And in California, there are
51
c
commodity boards---for

Artichokes,
Avocados
,
California cherries
,
figs
,
pistachios
,
salmon,
strawberries
,
tomatoes
and
walnuts
all have their own boards--as do, of course, those famous
California raisins
.
New Jersey --which is also a significant agricultural state, has
7
commodity boards
-- for
blueberries,
sweet potatoes
,
white potatoes
, and of course,
NJ wine.
.
What, no board for toxic waste?
Eating Abroad
:
Japanese Hungry for New Theme Park Concept
Big Blue Dot
, a kids trend watch and consulting company, reports that indoor
"food theme parks" are popular in Japan. The first, Shinyokoham Raumen Museum, opened in 1994 and allows visitors to sample many varieties of Ramen noodles all in one location. Since then the Yokohama Curry Museum has opened (2002), followed by The Ikebukuro Gyoza Stadium in Tokyo featuring gyoza--dumplings--stuffed with minced pork and vegetables, and The Naniwa Kuishinbo Yokocho in Osaka, which has a1960s-era Osaka retro food court feel.
Given that the Japanese economy is in the toilet, it's no surprise folks are comforting their sorrows with food.
It's fun to imagine what the U.S.regional versions of these food museums might be:
--San Jose, CA,
The Pho Palace
, featuring 30 kinds of beef and pork entrails and organs
--New York, NY,
Moe's Knish and Calzone Deli Museum
, featuring items ripped off from Nathan's, Ray's Famous Pizza and the Stage Deli
--Los Angeles, CA,
The Healthy Living Salad Strip Cafe
, featuring assorted sushi rolls and ten different kinds of frozen Jello-shots.
More info:
Trends in Japan
Shinyokohama Ramumen Museum
Osaka Aquarium Kaiyukan Restaurant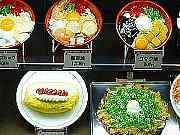 Yukari
Long established restaurant of Okonomiyaki (Japanese-style pancake with vegetables and other foodstuffs
.
READING
: Business 2.0 has published its third annual
The 101 Dumbest Moments in Business.
Amazingly, AOLTW isn't mentioned until # 89-91, when Biz 2.0 lambasts the company's stunning devaluation.
That's fine, but I'm surprised that some of the AOL brand's brighter moments aren't mentioned in this article, such as:
1) Announce a new series of commmunity and content initiatives in October 2002, then switch strategies less than 3 months later.
2) Make a big deal about the Microsoft plastering New York City with MSN butterflies in October 2002--after all, doesn't calling the city to complain about the butterflies prove AOL 8.0 is the better product?
2) Announce that Netscape will be a key partner in distributing AOLTW content on the Internet--then less than 3 months later, announce many of the most popular Time Inc brands will be available
only
on AOL service.
(
Disclaimer: I was employed by AOLTW through December 2002.)
WARRING:
"This is the real live stuff, ladies," said Sgt. First Class Cyndee Carnes, 36, of Santa Rosa, Calif., as her colleagues from the 12th Aviation Brigade's F Company stripped off their baggy green chemical-suit jackets and pants after one missile alert. "If we weren't soldiers a few minutes ago, we are now." Story by, Mary Beth Sheridan, The Washington Post March 20, 2003
(registration required
)
Watched the war on CNN, MSNBC and Fox this morning. Is the video Saddam Hussein the real Saddam Hussein--or is he a Saddam Hussein stunt double? As Baghdad burns, this seems to be the question of the moment.
Meanwhile, the folks at
Deviant Art
, a site I have trouble navigating, have posted a gallery of artwork devoted to the war--and artists' commentary on it. Here is one picture--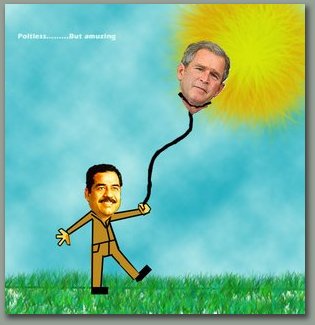 Thursday, March 20, 2003
Blogging: I have been blogging like crazy for the past 24 hours. Didn't go to the gym, didn't go into the city for my meeting, just kept working on items for this blog. It kind of feels like when I first got Winston, my 110 lb. dog, who at the time was a little fuzzy puppy, and I spent all my time taking care of him. In the crate, out of the crate, piddle, clean it up, poop, clean that up, teething, give him a toy, etc.
Blogging kind of feels like the same thing, except my brain is doing it--reading, thinking, talking, watching--selected pieces are ending up here.
Jeeze, I am sick of sitting at this computer! Blog, go to sleep.

One last item tonight
--
Revolution is not An AOL Keyword, Brother.
Boing Boing
pointed to a wonderful
blog
from students at the Berkeley J-School. Eddan Katz, one of the student editors, posted a ditty created in the spirit of Gil Scott-Heron''s
The Revolution Will Not Be Televised.
Here's an excerpt:

There will be no screen grabs of you and
Jeeves the Butler one-click shopping at My Yahoo,
Or outbidding a shady grandma on eBay for
That refurbished iPod 20-gig.
MSNBC.com will not predict election results in Florida
Or fact-check the Drudge Report.
Revolution is not an AOL Keyword.
Also found the link to the staff bios. In addition to
John Battelle
and
Paul Grabowicz,
Scot Hacker is working on the project, and he has a sweet blog called
The Bird House
that I hadn't seen.
God, there are a lot of smart people!
Is there something wrong with blue-collar Connecticut town mayors?
First, Joe Ganim, the mayor of Bridgeport,was found
guilty of collecting more than a half-million dollars in bribes and kickbacks while leading one of the poorest cities in the country. Now, former Waterbury Mayor Philip Giordano is on trial on two federal charges dealing with "sexual activity" involving a child.
Giordano, who may be one of the biggest slime to ever walk the earth,
admitted
Thursday that two preteen children may have watched him receive oral sex from a prostitute, but he denies forcing the girls to perform oral sex on him.
What did they call the inmates in prison who took care of their fellow prisoners by doing wash and performing other services? Maytags? I hope Giordano is practicing his washing skills...if he is guilty as charged, he deserves a special place in jail.
BLOGGER=BUGGY?
I have been posting to this blog for less than 24 hours. So far
--3 of my posts have been lost in limbo and never appeared after I published them
--I accidentally deleted 2 posts and a photo, never to be recovered
--Blogger has turned all my entries to
bold
and deleted some of my hyperlinks
Right now, Blogger Pro, which is what I am using, seems closer to AOL Hometown, the AOL home page template tool, than to the elegant
Moveable Type
, the place people seem to go once they figure out what they are actually doing (I realized I may not know what Iam doing for quite a while.)
ANOTHER SCAM FROM MY INBOX--Only publishing the first part.
IMMEDIATE ATTENTION NEEDED : HIGHLY CONFIDENTIAL
FROM: GEORGE WALKER BUSH

DEAR SIR / MADAM,
I AM GEORGE WALKER BUSH, SON OF THE FORMER PRESIDENT OF THE
UNITED STATES OF AMERICA GEORGE HERBERT WALKER BUSH, AND
CURRENTLY SERVING AS PRESIDENT OF THE UNITED STATES OF
AMERICA. THIS LETTER MIGHT SURPRISE YOU BECAUSE WE HAVE NOT
MET NEITHER IN PERSON NOR BY CORRESPONDENCE. I CAME TO KNOW
OF YOU IN MY SEARCH FOR A RELIABLE AND REPUTABLE PERSON TO
HANDLE A VERY CONFIDENTIAL BUSINESS TRANSACTION, WHICH
INVOLVES THE TRANSFER OF A HUGE SUM OF MONEY TO AN ACCOUNT
REQUIRING MAXIMUM CONFIDENCE.


I AM WRITING YOU IN ABSOLUTE CONFIDENCE PRIMARILY TO SEEK
YOUR ASSISTANCE IN ACQUIRING OIL FUNDS THAT ARE PRESENTLY
TRAPPED IN THE REPUBLIC OF IRAQ. MY PARTNERS AND I SOLICIT
YOUR ASSISTANCE IN COMPLETING A TRANSACTION BEGUN BY MY
FATHER, WHO HAS LONG BEEN ACTIVELY ENGAGED IN THE EXTRACTION
OF PETROLEUM IN THE UNITED STATES OF AMERICA, AND BRAVELY
SERVED HIS COUNTRY AS DIRECTOR OF THE UNITED STATES CENTRAL
INTELLIGENCE AGENCY.


IN THE DECADE OF THE NINETEEN-EIGHTIES, MY FATHER, THEN
VICE-PRESIDENT OF THE UNITED STATES OF AMERICA, SOUGHT TO
WORK WITH THE GOOD OFFICES OF THE PRESIDENT OF THE REPUBLIC
OF IRAQ TO REGAIN LOST OIL REVENUE SOURCES IN THE
NEIGHBORING ISLAMIC REPUBLIC OF IRAN. THIS UNSUCCESSFUL
VENTURE WAS SOON FOLLOWED BY A FALLING OUT WITH HIS IRAQI
PARTNER, WHO SOUGHT TO ACQUIRE ADDITIONAL OIL REVENUE
SOURCES IN THE NEIGHBORING EMIRATE OF KUWAIT, A WHOLLY-OWNED
U.S.-BRITISH SUBSIDIARY.

SINCERELY WITH WARM REGARDS,
GEORGE WALKER BUSH



Internet Radio--Will advertisers spend?
According to
Digital Media Wire
, a group of independent Web radio broadcasters have formed
the Internet Radio Marketing Group to offer advertisers charter rates across its network of members, which reaches 500,000 unique radiollistener per month. I'm curious who would want to advertise on these sites, given the millions that listen to traditional radio and the resistance radio advertisers have had to putting dollars into web-based advertising.
Is anyone spending real dollars to advertise on AOL radio? If not, does what kind of case does that build for these folks?
MTV MUSIC MEMO--No War footage
A supposedly authentic
memo leaked
from MTV Europe recommending the network refrain from playing music videos with images of war, soldiers, etc, including the following:
System of a Down "Boom!" - anti-war video containing facts and figures
Aerosmith
"Don't want to miss a thing" - contains footage from the film Armageddon.
Manic Street Preachers "So Why So Sad" - contains footage of soldiers being killed and man throwing a hand grenade.
Passengers/U2 "Miss Sarajevo" - contains missiles, guns and buildings being blown up.
Bon Jovi "
This ain't a love song" - contains war scenes and victims in distress.
Iggy Pop "Corruption" - contains wars, riots, guns and captions "we love guns" and "we love rifles".
Paul Hardcastle
"19" - contains war footage.
Radiohead "Lucky" - contains war footage including injured children.
Billy Idol
"Hot in the City" - contains an atomic explosion.
Armand van Helden
"Koochy" - contains an atomic explosion and ships being blown up.
Trick Daddy "Thug Holiday" - contains soldiers being killed at war.
MEDIA MESS: WHY THERE ARE NO JOBS IN CALIFORNIA
Apparently, two of the cities with the highest unemployment rates are New York City (where I live now), and San Jose, CA (where I lived until September, and where I hope to return). All my unemployed editor, content programmer, and other literati friends in the Bay area will probably feel the same sadness I do at
this story
about how The Writers Guild of America has singled out media-industry consolidation as a culprit in the loss of 10,000 California jobs over the past three years.
(Source: David Hirschman, mediabistro)
War Blogging, War News Coverage:
Chris Hedges
, a former war correspondent for The New York Times and other media outlets,and the author of the new book
WAR IS THE FORCE THAT GIVES US MEANING
( Public Affairs Press, September 2002) is interviewed by someone at the Poyntner Foundation about journalistic coverage of the current war.
Hedge's makes the point that most of the "embedded" journalists will not have much in the way of military skills and will be totally dependent on the military for all logistics and support--and that will suit the military just fine, says Hedgers. What the military really fears, he say are the "independent reporters who break free from the pack, who have their own transportation. We saw this in Afghanistan, we saw it in the first Persian Gulf war, and I am sure that we will see it once again."
Hedges is right that
there is a shortage of independent voices in this war
, and it is especially sad that
Kevin Sites
, the CNN correspondent who was posting regularly to his new blog, seems to not have been able to
get anything up today, 24 hours after CNN asked him to place a disclaimer on his site. The disclaimer reads: (Note: Kevin's personal website and this guest-blog are not affiliated with, endorsed by, or funded by CNN. Archives of Kevin's work with CNN are available here, and at CNN.com.)
--it is not clear whether anything
new
has been published to this site since this disclaimer went up.
Meanwhile, very few newspaper sites are pointing to Site's blog. Those that are include
The Spokesman Review
aka Spokane.net in Spokane, Washington. At Advance Internet, many of the local sites are carrying
Jeff Jarvis'
cogent
war blog
, updated frequently, with lots o'links. ( Corporate disclaimer here: I worked for Jeff for some years.).
Jon Dube writes that
Cyberjournalist, is keeping track of war blogs and war journals, and

Cory Bergman of Lost Remote
, has an excellent collection of links to diaries and weblogs from reporters in the Gulf region.
Jimmy Guterman
has a smart piece up on Business 2.0 today, entitled
Memo to News-Site Executives--How can Net-based news services best serve their audience during the imminent conflict?
. Among Guterman's points:
Deploy broadband sparingly.
Use weblogs to jump-start discussion. WHO'S LEFT?
Apparently, CNN is now the only American news network with a reporter and a crew in Baghdad. Additional U.S. news agencies still in the city include the L.A. Times and The New York Times.
http://www.reuters.com/newsArticle.jhtml?type=focusIraqNews&storyID=2409523
http://www.nydailynews.com/entertainment/story/68550p-63796c.html
http://www.latimes.com/news/custom/showcase/la-war-media20mar20.story
Two new war blog resources:
From Howard Rhinegold and the smart mobs crew
on the power of mobile
A new
war watch blog
from the San Jose Mercury News, edited by SV senior editor John Murrell.
More Celebrity Notes
Monica Lewinsky
will host a new reality TV show, according to
Page Six's
Paula Froelich
in the New York Post. Poor Monica--a self-proclaimed "girl who can't keep a boyfriend," will preside over a show where 20 men compete for the affections of one single girl. The suitors will hide their identities from the woman by wearing masks and hoods in her presence--kind of like courtin' in the Klan.
Gandolfini-ed?
Is
Michelle Branch
pulling a
Gandolfinii
? According to The NY Post's
Page Six
, Bert Fields, lawyer for Maverick, Branch's record label, Branch is upset because Warner Brothers received revenue from a recent tour, reducing her cut. Page Six quotes a "spy" saying This is all about money."
Galdolfini-ed?
Wednesday, March 19, 2003
At War: The United States has launched a strike against Saddam Hussein. Footage from the video pool shows a highway in Baghdad, 6:39 AM. Hardly any traffic on the road, a couple of pedestrians scurrying about. The chiron crawl at the bottom of the screen quotes Bush saying "This could be a longer and more difficult war than anticipated."

A unique offer: I received this email tonight:
Subj: Mail to you
Date: 3/19/03 6:39:27 PM Eastern Standard Time
From: mjubril@zwallet.com
To: mjubril@zwallet.com
Sent from the Internet (Details)

ATTENTION: SIR/MADAM
JUBRIL MARTINS

Wema Bank Plc
Lagos - Nigeria.
I am the manager of bill and exchange of the Foreign Operations
Department of Wema Bank of Nigeria. I am writing following the
impressive information about you through one of my friend who run a consultancy firm.

He assured of your capability and reliability,Although I did not tell him the details of the business I want to do with you. In my department we discovered an abandoned sum of $15million dollars (Fifteen million United States Dollars) in an account that
belongs to one of our foreign customers who died along side with his entire family in November 1996 in a plane crash.Since we got information about his death, we have Been expecting his next of kin or relation to come over and claim his money because we cannot release it unless somebody applies for it as next of relation to the deceased as indicated in our banking guidelines.

Unfortunately we learn that all his supposed next of kin or relations died along with him at the plane crash leaving nobody with the
knowledge of this fund behind for the claim. It therefore upon this discovery that I and two other officials in the department now decided to make business with you and release the money to you as the next of kin or relation of the deceased for safety keeping and subsequent disbursement since nobody is coming for it and we don't want this money to go back into Federal Government account as unclaimed bill. The banking law and guidelines here stipulates that such money remained after six years the money will be transferred into banking treasury as unclaimed fund. The request of a foreigner as next of kin in this business is occasioned by the fact that the customer was a foreigner and a Nigerian cannot stand as next of kin to a foreigner.

We agreed that 35% (negotiable) of this money will be for you as foreign partner. Therefore me and my two colleagues will visit your country for the disbursement according to the percentages indicated. Please be honest to me. Therefore to enable the immediate transfer of the fund to you as arranged you must apply first to the bank as next of kin of the deceased.

Upon receipt of your response I will send to you a text of the application with the name of the deceased and his country and
other information about him. Note this transaction is confidential and risk free.

As soon as you receive this mail you should contact me through my e-mail address (m_jubrilby@yahoo.com)

Best Regards
JUBRIL MARTINS

Clearly an amazing opportunity, no?

Having trouble getting these first posts onto the site. This is a test

WELCOME TO MY BLOG
.
.
Reading
:
A Dog Year: Twelve Months, Four Dogs, and Me
, by Jon Katz, the slashdot columnist, lives about 10 miles away from me in Montclair, New Jersey. This book is an account of his relationship with Devon, a high-strung border collie he adopts.
.
Cooking:
Totally into cooking these days, now that I am working from home. Last night I made Salmon Croquettes, salad with avacado, chana masala and brown rice. Tonight: Rice Noodles with Basil, Thai style. Have to stop making cookies, we are all going to get fat.
.
Writing:
Working on piece about
Kevin Sites Blog
and the wonderful team that is putting this site together--
Xeni Jardin,
John Parres
, David Ulevitch, and other folks. I find it amazing that these folks, who are outside of the traditional online newspaper and TV reporting media world, reached out to Kevin, who works for
CNN,
a company that is not blogging, and does not see blogging as part of their news agenda or format, and got him up. Meanwhile, online news sites are putting up very little interesting content that is not repurposed from their newspapers, AP feeds, or TV video.
.
I spoke to an old friend who is a highly placed news executive at
CNN and asked him whether CNN.com was planning to link to Kevin's blog. His response: "CNN is interested in a more structured presentation of the news than blogging offers. We will present online photo galleries, brekaing news stories, video and text as a way to give our audience immediate access to new about
the war in Iraq.