Monday, March 31, 2003
Sunday, March 30, 2003
Saturday, March 29, 2003
Friday, March 28, 2003
Thursday, March 27, 2003
TRUE CRIME
:
Sons & Fathers
1:
Damon Dash's son busted with dad's pot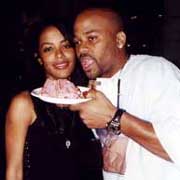 The New York Post
reported
today that the 11-year-old son of Rock-a-fella rap exec
Damon Dash
was busted after bringing what he said was his father's pot to school and showing it to his teacher. According to the article, the kid brought dad's stash to school in Alpine, NJ to complain to a teacher; the teacher then arrested the child for possession. Dad, meanwhile, withdrew the kid from that school and moved him to Manhattan after the bust occurred. Meanwhile, Dash was arrested in NY yesterday on a warrant for "absconding with a child" after the kid's mother said he intended to move the boy out of state.
2.
Teen credit card hacker has IBM Security Chief pop
According to Kiernan Crowley's exclusive story in the
NY Post
, the father of Loren Anderson, the 17-year-old alleged hacker arrested on Long Island in a $100,000 credit-card computer scam is
Clain Anderson
, director of client security for IBM - and a specialist in fighting hackers and preventing computer fraud.
The piece has some great color from
Dan Verton
, author of
The Hacker Diaries
: Confessions of Teenage Hackers. Verton, who reportedly served on a security panel last yester with Anderson pere, who suggested that the son most likely has "top of the line equipment" to learn on at home because of his father's profession.
Apparently, according to Crowley and to
other published reports
, Anderson Junior started running his ATM counterfeiting scheme at home in Chapel Hill in July, then dropped out of school and moved to Long Island--alone and 17--to live with two boys he met on the web and develop the alleged credit card scam.
Wednesday, March 26, 2003
Tuesday, March 25, 2003
Monday, March 24, 2003
Sunday, March 23, 2003
Saturday, March 22, 2003
Friday, March 21, 2003
Thursday, March 20, 2003
More Celebrity Notes
Wednesday, March 19, 2003