Saturday, May 31, 2003
Future of Open Source Browsers aka Is the open web fu**ed again?
More news items
and blog posts today on yesterday's AOL/Microsoft announcements and the possible impact of this new alliance on Netscape and open source browsers:
--O5O,
OS Opinion writes
:
Is the Microsoft-AOL Time Warner browser settlement the beginning of the end for open-source and alternative browsers? Does it represent a threat to the open standards of the Internet? What about the fate of Mozilla.org, the open-source group tightly connected with Netscape? All these questions are on the minds of alternative-browser industry insiders as the ramifications of Microsoft's (Nasdaq: MSFT) settlement with AOL (NYSE: AOL) began to sink in.
David Smith, research analyst for Gartner, quoted in Bost
on internet .com story
: The IE-Netscape "competition has been way overblown in past couple of years. The two companies really only compete on the fringes," said David Smith, Microsoft analyst for research firm Gartner:
"Microsoft is a supplier of technology. AOL is a user of technology as a media company." To talk about browser wars now is ridiculous, he said. "It is so off the map these days and out of the world of issues that people have. Very few people use [Netscape], very few care."
Reuters News
: Clock Ticks for Netscape...
Forrester Research analyst Rob Enderle said that, now, it's only a matter of time before AOL sells Netscape. "Clearly the clock is ticking for Netscape as a Web property owned by AOL Time Warner," he said. "This is an asset that has become nonstrategic in a company that is doing some massive cost cutting."

Netscape executives declined to comment. AOL Time Warner Chief Executive Dick Parsons shed little light on the company's plans for Netscape. "We're still exploring other opportunities with Netscape," he said in announcing the deal. Asked if he was planning to sell the unit, he said, "Not at this point."
National Post of Canada:
...This spells the end for Netscape, whatever it means for our ability to police our own homes and computers. There is no a longer a reason for Netscape to exist, with its market share dwindled to nothing, and with it not fitting into AOL Time-Warner's plans to refocus on media properties and their distribution.

And while no one has apparently noticed, the deal is also a strike against the open source software movement. AOL Time-Warner no longer needs to bankroll Mozilla, the nonsensical browser promoted by the evangelical fans of collectivist code. Without its support, that browser will languish, at best, and more likely founder.
Forbes:
Microsoft clears the Netscape history file:
Microsoft has wound back the clock to 1995 and paid $750 million--in cash--for Netscape so it could put it out of commission.
Friday, May 30, 2003
Links from around the web
Thursday, May 29, 2003
BetaNews: Support for Mozilla will continue
A recent
BetaNews article
says:By agreeing to the continued use of Internet Explorer, AOL effectively puts to rest the company's longstanding plans to transition AOL client software service to its own Gecko browsing technology used in Netscape. AOL's original license to use IE expired on January 1, 2001, and the companies failed to reach a new agreement.
AOL says it will not close its Netscape unit "
at this point,"
which means development of Gecko and support for the open source Mozilla browser are likely to continue.
Will Microsoft buy AOL?
Is the "we're friends now"
announcement
from Parson and Gates a first step toward selling off the AOL unit to a technology company that would clearly love to have their subscription list?
AOL has roughly 32 MM subscribers (a drop from 18 months ago), Microsoft has 9 million. AOL is owned by a media company that would love to have a business justification to cut it loose (my opinion), Microsoft is a technology company that has been trying to beat AOL in the online business for the past 7 years.
My prediction: Look for AOL and Microsoft to look for ways to develop stronger and more profitable partnerships, including teaming up or bundling on ISP access in some way., and watch for a possible sale announcement down the road.
The end of Netscape?
Now that AOL and Microsoft are best friends, the Netscape browser's in a tough spot.
Sold for $750MM in potage , AKA settlement charges, the browser--once touted as AOL's strategic alternative to Explorer--seems like a pretty lame duck product right now. Since AOL is going to continue indefinitely using IE as their core platform, is there a reason for AOL to fund Netscape and the Web properties team?
Back in the day, like 2000-2001, Netscape was going to be the bright hope for the non-AOL subscriber, the web alternative and flanker brand. But those days are long gone--Time, Inc content is moving onto AOL as a sop to the subscription price, AOL is facing hard choices about making their business work at the right margin, and Netscape's development path has slowed.
When you think that AOL purchased Netscape for $4.3 billion back in the day, the $750MM that AOL is getting from Microsoft in settlement charges is chump change--but if you're a cashed-strapped company, it's manna from heaven.

The rise of Mozilla?
As some of you know, I was VP for Programming at Netscape during the peak of the boom. At that time, hopes and plans for the browser and Netscape.com were bright. I was much more focused on Netscape 6.0 than on Mozilla.
But now I am running Mozilla with my news aggregator and strongly preferring it to Netscape and finding it better in some ways than IE.
Will one by-product of this AOL/Microsoft development be a backlash that pushes more people to Mozilla? With the development of Linux, and the move away from browser as the only web-based platforms, having an alternative browser may feel less critical than in 2000, and yet, having strong multiple browser platforms does matter.
I am going to watch and see what happens to Mozilla in the light of these announcements and see if the Phoenix will fly again.

Reuters Story
today:
NEW YORK (Reuters Health) - Psychopaths who have committed murder do not equate violence with something that is unpleasant, UK researchers said Wednesday.

This relatively positive attitude toward violence was not seen in either murderers who were not psychopaths or other men with personality disorders who had committed different crimes, the authors write in the journal Nature.

Psychopaths, despite evidence of charm and skill, are commonly unable to maintain affectionate relationships with others, while routinely engaging in impulsive, amoral and hostile behavior unhampered by guilt.

And while psychopaths who commit murder may often claim to think violence is wrong, the current findings stem from the results of tests designed to measure people's underlying attitudes toward a concept, and not simply what they say they believe, the researchers note.
More
here.
If you substitute deception and unscrupulousness for murder, it sounds like some business folks I've known.
Wednesday, May 28, 2003
Wynton Marsalis has a weblog
Wynton Marsalis, the talented jazz trumpeter from New Orleans, has a weblog with an RSS feed (thanks,
Ernie the Attorney
!)
News: Rick Bragg Resigns from NY Times
News just in
that Rick Bragg has resigned from the NY Times over his recent suspension. More stories
here.
Seems to me the old grey lady is taking a major hit. UGH.
Blogs & Social networks: Jumping the shark?
Yawn, more blogging stories in big media today. Time
published a piece
on
Friendster
and dating.
As some of you may know--and as everyone should know now, Friendster is a 6 degrees of separation hook-up service for friends of friends and their friends--and their friends, too, of course. Jonathan Abrams, the guy who started is, is an ex-Netscaper (I love keeping track of the legion of ex-Netscapers, they must number in the thousands by now.)
Times says Friendster is about dating, and it can be, but it is also about meeting friends of friends--something that also goes on at
Ryze
, another networking and social connection site.
I love Ryze, but I am neutral on Friendster--I have an account, but haven't really gotten in to it.
Department of Bizarre Synergies
So, remember the item I
posted this morning
about the salt marsh the city of San Jose bought from Cargills?
Well, that very same
Cargill's
is the company that helped McDonald's roll out the flavorings for its new McVeggie Burger.
McDonald's new Veggie Burger ain't exactly vegan
Is it a real Veggie Burger if it's cooked on the same grill with McDonald's hamburgers, chicken, and ribs? If you answered yes, you might feel great about McDonald's vegetarian burger as part of a light choices menu rolled out across Canada and a test in Southern California.
If you don't think bacon grease should mix with your soy protein and veggies, you might
not be as thrilled
about the new dish.
Accoesing to a
recent story
in Veggie's Paradise, the McDonald's rep said the burger was "
geared to the lighter side of McDonald's. It' s for people who are working on their weight. It's not intended for religious-based or serious vegetarians
."
Furthermore, while the McVeggie Burger features a vegan patty made exclusively for McDonald's by Yves Veggie Cuisine , the bun and the patty are vegan, but the barbecue sauce contains egg yolks, chicken fat, beef stock, beef extract, and rendered beef fat. Not exactly vegan
AOL Launches African-American area
After more than 10 months of planning, AOL
has launched
a new area for African Americans.
"We can't speak to all 30 million members in the same voice," says Belinda Hankins, AOL executive director for African-American business, in
today's press release
. "We want to be the brand of choice and provide compelling and relevant experience for African-American members."
Congrats, Belinda!
Tuesday, May 27, 2003
Whole lotta quaking hits the bay area
Okay, just when I thought it was safe, suggestions that the big one is coming--this weekend San Jose, Santa Rosa and the SF coast were
all hit by quakes
.
Rocky Roads: San Jose gets the prize
Here's another New York/San Jose item,
from the San Jose Business Journal.
For those of you who'd just assume, logically enough, that New York City has some of the country's worst potholes, the word's just in that San Jose--along with Los Angeles--snags top worst road honors.
According to The Road Information Program, a lobbying group, San Jose and Los Angeles are tied at the top of a national list of which cities have the bumpiest roads, with 67 percent of their major roads delivering unacceptable rides.
Close behind are San Diego and San Francisco-Oakland, tied at third and fourth with 61 percent unacceptable. Sacramento is sixth on the list with 50 percent unacceptable. New Orleans, Baltimore, Detroit, Kansas City, and Oklahoma City also are in the top ten. New York, not even close!
San Jose: Buying a salt marsh as big as Central Park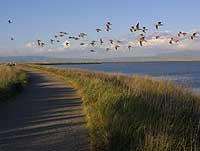 The city of San Jose is
planning to purchase
an 865-acre salt mars, a plot about the size of New York's Central Park, for $13 million dollars. According to the
Mercury News
, "
the 856-acre pond, ringed by levees and bordering Coyote Creek, is the same size as New York's Central Park. Its purchase comes two months after a $100 million state and federal deal to buy and restore 16,500 acres of Cargill's other bayfront salt ponds.
"
I've done a lot of hiking around in the Alviso wetlands, and that area feels like one of the few areas in the Valley that hasn't been totally developed--thought the housing developments are rushing in. It's good to hear the city will protect those lands, and perhaps one day turn them back to marsh for wildlife.
Blair Snitch Project Update: Rick Blair, outta here
"In a few weeks, I'm outta here," suspended Times journo
Rick Bragg tells
the Washington Post.
"I will take it from a stringer. I will take it from an intern. I will take it from a news assistant. If a clerk does an interview for me, I will use it. I'm going to send people to sit in for me if I don't have time to be there. It is not unusual to send someone to conduct an interview you don't have time to conduct. It's what we do.

"And this insanity -- this bizarre atmosphere we're moving through as if in a dream -- we're being made to feel ashamed for what was routine. . . . Reporters are being bad-mouthed daily. I hate it. It makes me sick."
AOLTW: Selling off the problem child
Steve Case
tells the press
he might be in favor of spinning off the AOL unit. In a
NY Times piece
today, David Kirkpatrick discusses Case's position and motives at length, concluding it is impossible to tell whether Case's ideas still have any influence.
I've wondered all along if all the reorgs and layoffs at AOL were not destined to make the unit shipshape, neat and tidy for sale. There is no way to know, but I suspect there are people at Time Inc and CNN and Warner Bros who think the stock price mght go up if AOL wasn't part of the mix. On the other hand, the company is profitable, so, dunno.
Monday, May 26, 2003
Photo Exhibit: Black Panthers 1968 in Berkeley
The Berkeley Art Museum has a show about "The Black Panthers 1968," an exhibition of 45 photographs, on display through June 29, exploring this time and a movement it gave rise to through photos taken by Ruth-Marion Baruch and her husband, Pirkle Jones, white liberals.
Articles about the exhibit
here
and
here
., info from the museum
here.
The photogs
donated $1MM
of their photos to UC Santa Cruz
Sunday, May 25, 2003
.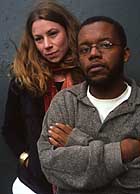 Zuza Glowacka, Jayson Blair's galpal, has
published an essay
in Newsweek about her relationship with Jayson and the Blair scandal.
I understand what Elizabeth Bishop meant when, in her poem "One Art," she wrote, "The art of losing isn't hard to master." In the weeks since I've had to resign from my job because a close friend of mine, Jayson Blair, was caught plagiarizing and fabricating, I've lost my privacy, my credibility and many of my longtime friends. A few weeks ago I was a young employee of The New York Times, one of the most respected newspapers in the world. Now I'm known to the world as the 23-year-old mysterious Polish emigre, caught up in possibly the biggest scandal in the history of journalism and certainly the biggest scandal in the history of my life thus far.
More
here
from this really persuasive and well-argued essay. Man, she's clearly not only smarter than Blair, but much more stable.
Drowning in information & Tracking the Flow
I'm about to confess that there is no way I can keep up with all the bloggers and postings that interest me--there, I've said it. Even with a newsreader, there is just too much to read--and too much to think about. That's why I'm particularly interested in
Tom Coate's analysis
of a Microdocs story on how
information is tracked through the blogosphere.
Tom's got some smart diagrams charting the process and a tidy explication.
Thanks!
Translations from the Woof-ish: Sign in Vancouver
Department of Banned Books Foolishness aka deeply silly people
A school board member and a grandmother in Riverside, California
propose to ban
Dav Pikley's
The Adventures of Super Diaper Baby, part of the Captain Stinkypants series written by
Dav Pilkey
and published by
Scholastic
, because the book has poop as a character and doesn't meet their critical standards (always a good reason to ban a book, doncha know).
The book..." has poor grammar, poor spelling, poor content, and it's an extremely poor example of what I would want my student to learn," said Gayle Cloud, the school board member. "I think Dr. Seuss would be rolling over in his grave."
BTW, Riverside is the school district that banned the highly regarded The Chocolate War, by Robert Cormier from middle school libraries in the Riverside, California, Unified School District after a district committee decided the book was inappropriate for seventh and eighth graders to read without class discussion.
What fools.
Dream: Strings Attached
A long and intricate dream this morning in which many things were Chinese and had long white strings of thread attached.
Dreamt I was living at the beach, with many other people, and we had a wide, gauzy silk crepe curtain across the big picture window; it was opened and closed by pulling on the thin strings in the warp of the fabric.
Second part of the dream was a flotilla of people gathering to demonstrate about something and they had these amazing mobiles floating in the sky, very intricate kites of birds, all attached together by thin white strings.
I woke up and went, "Wow, that was amazing, what does it mean?" and then I stepped back and said, "Oh, everything has strings attached. Hmmnn, that's a comment on my life."


Department of Trendy Reporting: Blog This
The New York Times has
yet another blogging piece
by a reporter, this one about photo blogs. Most annoyingly, there's no service box or sidebar that would make it easy to go visit all the blogs Sarah Boxer talked about--all of which were entered in the Photobloggies by the way. The
Gothamist piece
pretty much echoes my feelings--qwould be nice t have livelknks, this is trendy stuff, etc. Nevertheless, piece is worth
checking out
.
Saturday, May 24, 2003
Why do people in Japan have a thing about dressing their pets?

What is
this
about?
Ringtones: Gross & Yucky drive the business
Fart ringtones are big with American teens, according to a
Reuters article quoting
Cindy Lundin Mesaros, a spokeswoman for Faith Inc.'s
4295.T Modtones
unit, a ringtone provider for Verizon Wireless VZ.N . "It's pretty impressive, considering there was no promotion and no press," she said. "You stick it underneath someone's chair and dial your own number and it's a remote-controlled whoopie cushion."
Department of 'Dateline Integrity:'
Columbia Journalism Review
published a
web exclusive story on Friday
, detailing how The New York Times has placed Pulitzer Prize-winning reporter Rick Bragg on a two-week leave because of impropriety in reporting a piece published last June. The story has been
widely picked up in
the news.
According to
Howard Kunz of the Washington Post, an NY Times editor's note Friday said that Bragg had only briefly visited the Florida town of Apalachicola, from which he filed a story last June, and that most of the reporting had been done by a stringer. That freelance reporter, J. Wes Yoder, an intern,
should have shared a byline
with Bragg, the paper said.
According to
the Daily News
, Yoder, 23, spent four days in and around Apalachicola, on Florida's northern gulf coast, did much of the reporting and sat with his notes alongside Bragg when the staffer wrote the piece.
"I had offered to volunteer for Rick for the summer because I wanted to learn from him," said Yoder, who has since become a staff writer for The Anniston Star, an Alabama paper where Bragg once worked. Yoder said Bragg paid him directly for his work over three months, calling it an invaluable experience.
Gordon Gray, author of
the CJR piece
, writes:
While many national correspondents at the Times rely heavily on stringers, the paper's policy on "dateline integrity" is that the bylined writer must "provide the bulk of the information, in the form of copy or, when necessary, of notes used faithfully in a rewrite." Had Yoder been given at least partial credit, it seems, Bragg's piece might not have had any "dateline integrity" issues. The Times national desk policy of not giving bylines to stringers or freelancers is one of the areas a new committee — headed by assistant managing editor Allan M. Siegal and formed in the wake of the Jayson Blair plagiarism and fabrication debacle to rethink newsroom policies — will review. "It would have been nice for J. Wes to share a byline, or at least a tagline, but that's not the policy," Bragg said. "I don't make the policies."
Why am I covering this?
Rick Bragg
is one of the best "local color" writers in the country, if not the world. His memoirs and essays are outstanding.
It would be a shame if the Times trying to police itself slapped his hand too hard in the process.
Friday, May 23, 2003
Despite all my rage...
Got a fan letter today that made me wonder whether just anyone can get a university email address:
Subj: Read your blog...
Date: 5/23/03 5:37:30 PM Eastern Daylight Time
From: XXXXX@wisc.edu
To: smernit@aol.com
Sent from the Internet (Details)

Hi, Susan. I was curious to see who was linking to IP-relay.com, and I came
across this entry in your blog:

"Does anyone besides the evil sixteen
year old boys I am related to use IP-relay? Not to talk to deaf people, but
to embarass the IP operator with the outrageous comments they are forced to
repeat?"

Thanks for making my job harder, you fucking bitch.
Love,
--XXX
My fantasy is that this person needs reading glasses, or maybe classes in anger management, or perhaps both. Oh, no, I forgot, it's always best to shoot the messenger. Thanks, girlfriend, you have a real nice day, too.


Kazaa: Can't stop P2P
What does it say about me if I confess I've never used Kazaa--too nervous about worms and viruses?
My son the teenager has a computer loaded with music he's used Kazaa to pull off the net, and I have a great time hanging out with him listening to to Squarepusher, Infected Mushroom, and remixes of 90's house.
Neverthless, Kazaa
says
that users have downloaded more than
230 million copies
of their file-sharing program.
According to the
San Jose Merc
, "
In just over a year, the software used to download free music over the Internet has surpassed all other applications distributed through CNet's Download.com site -- including ICQ, the predecessor to AOL's Instant Messenger, and WinZip, the software utility used to open compressed files."
Lucy Woodward: Fame is the AOL Homepage
Musician Lucy Woodward was one of AOL Music's First Look artists, and it's certainly paid off. In the past 3 years, AOL music has become an industry force, driving record sales and higlighting artists before MTV. Here's Lucy's
quote
on how normal her life is:
In New York, a lot of people like to remain anonymous. They go there and they just kind of look down on the street all the time, and kind of keep their head down. So in New York, my hometown, I don't even get that much recognition. Travelling other places, I act normal, and I kind of forget sometimes that, oh, yeah my picture is in the store, or I'm on the AOL homepage."
More on the evolving power of AOL Music here.
Gossip: Britney sweated in this
Britney Spears is
putting her old costumes
up for sale for a good cause, the Post reports today. 160 of Brit's tight, tiny duds--including the scanty slave-girl outfit she wore on the Slave 4U video--are going on the block at
gottahaveit.com
Now that Brit's browner, bigger, and older, she's past all this trashy pop-start stuff, no doubt. She says ""My mom wants me to get rid of all the major costumes, cause she doesn't want me walking around in that."
More Goggle news on this
here.
Thursday, May 22, 2003
Gothamist does Jayson, too
Fight Club: Disgraced Journalists
Eric Gillen of Black Table offers
show and tell
on America's disgraced journalists. Says Gillin:
A closer look at the picture shows that charges of plagiarism, fraud and misconduct don't always spell instant career death. In fact, some journalists have received little more than a soft rap on the knuckles while others, of course, have never worked in this business again
More delicious writing about this right here.
Jayson tells the
NY Observer
:
"I was young at The New York Times. ...I was black at The New York Times, which is something that hurts you as much as it helps you. I certainly have health problems, which probably led to me having to kill Jayson Blair, the journalist. I was either going to kill myself or I was going to kill the journalist persona."
More stories about Jayson Blair coillected at
Google News.
Jayson Blair: The Pix
Want candids of Jayson Blair? Times photo Ed Keating went over to his Brooklyn home and shot candids last Friday,
according to Editor & Publisher
. The photos first appeared in Newsweek, but for a sum, they can be yours as well (if you're a media outlet, of course.)
Jayson, Jayson, Jayson, you're on your way to being the Tammy Faye Baker of the the new millenium. Don't be shuffling and scraping, man, you worked hard and you screwed up--live with it.
Great article by Jimmy Guterman!
Return of the Dotcom Media Flameouts
A new version of the Wall Street Journal Online takes its cue from some unlikely sources.
By Jimmy Guterman, May 21, 2003
Remember dotcom journalism and how it was going to change everything? Salon.com was supposed to make sense as a Nasdaq-listed public company? After numerous downgradings, it now trades over the counter for a nickel a share. TheStreet.com was supposed to render the Wall Street Journal irrelevant? Well, the editor of TheStreet.com is back at the Journal. Inside.com was supposed to render existing media journalism irrelevant? Now the Wall Street Journal Online has launched a promising service that successfully does some of what Inside set out to do. That last development is the most interesting, and it shows how a few of the dotcom journalism models worth preserving are being incorporated into more venerable media ventures. As with WSJ.com's Health Edition, launched last year, the front page of its month-old online Media & Marketing Edition includes annotated headlines, links to related stories by WSJ-affiliated sources such as Barron's and the Dow Jones Newswire, and shortcuts to subject-specific areas on associated sites. For those wanting a quick overview of the day's media and marketing news, along with links to more detailed information, it's quite useful.
Full story
here.
AOL 9.0: More here; software released.
Flying: No Terrorists please, but pigs are okay
According to a
recent ananova.com story,
the new U S Department of Transportation regulations allow pigs, horses, and other animals on board a plane so long as they can fit into the luxury cabin of a Boeing 777. The new guidelines have been introduced so all "service animals" - not just guide dogs for the blind - can be transported with their owners.
More
here.
Wednesday, May 21, 2003
Writing: I used to write poetry--here's one
YIDDISH
At the first class we learn to say
Di bobe zet der bon,
the grandmother sees the train.
By the end of the course
we will speak 1,000 basic words,
be able to read the Forverts
and hear the different gutterals
in Polish and Russian Yiddish.
Di bobe zet der bon,
are our first five words:
The grandmother sees the train pass through her village.
The grandmother sees the train,
her children are on it.
The grandmother sees the train come to take her away.
She is the only one left who speaks Yiddish.
More of this poem
here.
AOL Client 9: Feels like CitySearch
AOL Client 9: Feels like CitySearch
As most of you know, AOL upgrades and releases a new client once a year. Last October, it was AOL 8.0, which offered much improved mail functionality, a new look and feel on the Welcome Screen, and a much strong integration of tools such as You've Got Pictures, Radio and the IM/Buddy tools such as Expressions.
AOL does updates to its clients throughout the year as well, (viz the new Broadband client release this April), but the big thing is the annual "new" client.
So AOL 9.0 is scheduled for sometime this Fall, and pictures and designs are starting to leak across the web as beat testing rolls out.
There's a
whole set of screen shots
at Neowin.
Some comments on 9.0 changes as represented by these screens:
1)
Information management--
New emphasis on suitcase and my stuff: Two items on the very top suggest AOL is going to integrate more with desktop tools and information management--a File command on far left, and as little suitcase icon at far right.
2)
Downplaying channel content
--No more channel bar on Welcome Screen. Does anyone go to all that content buried in the bar? AOLers have long discussed whether the real estate and the click-through for the left nav mar are merited--guess the answer is in these 9.0 designs.
3) Continued broadband strip below for those who don't have broadband client--that hasn't changed much.
4)
AOL Dashboard
replacing channel strip--Like the current AOL IM/Mail tool, this object can open and close, collapsing on command. What does it do? Weather, money, radio search and dictionary reference are the highlights.
5) Refreshing tabs and
expanded views
. Right now the Welcome Screen has little buttons you click to see new current features and news. This new design allows you to use a tab to refresh the view. Tabs suggested a focus on younger audience/premium content/key demographic groups. A tabbed series right down by the promos offers Music Sports Teen People(this is the teen channel now) Customize. Note that all these categories appeal to the 13-25 demographic, and that they are all key categories to offer upsells in the form of premium services. Further, the Customize tab suggests that AOL will be able to go beyond the current capability it has in 8.0 to offer users the chance to select one of 8 screens and allow users to switch some components in and out--adding some of the capabilities of My AOL and My Netscape to the main screen. (Yes, it's like RSS in a way).
Finally, doesn't the whole thing look a lot like Citysearch? Lots of commerce and transaction services, plus community?
Tuesday, May 20, 2003
Poetry from Jayson Blair's student website
Life to go after Parade?
Stories
ran yesterday
about Time Inc developing Life, the defunct magazine, into a photo-driven newspaper insert that could compete with Parade, the Advance Publications newspaper insert/magazine., and with USA Today's insert, owned by Gannett. Time Inc is reportedly testing the product with newspaper owners to gauge interest before deciding to move ahead.
If they do move ahead, will the web site be AOL-only?
(Full disclosure: I ran the new media business at Parade before I moved to Netscape/AOL)
3 Month Anniversary! Blogalicious Habit
It's 3 months since I started blogging. Only three months, but how life has changed:
1) Have started a consulting company, 5ive, with four amazing guys.
2) Have consulting clients, and am enjoying working with them
3) Am working with K-12 education and blogging, two areas I am passionate about
4) Am doing more work with non-profits, another goal post leaving AOL
5) Have K-12 related business idea I am developing and it's going well.
6) Feel like my life is getting a new shape--on two coasts, no less.

Microsoft & AOL Bloggers
Mary Foley of Microsoft Watch says the evil empire has blogging on the brain. She's pulled together
a list
of all the really smart 'softies with Blogs.
Further
she points out
how Microsoft's forthcoming FrontPage 2003 product can be used as a front-end blogging tool, as can InfoPath, how Microsoft's OneNote note-taking application (with its one-button "publish to Web" feature) can be a blog builder, and avid interest in building .Net blog plugins and tools.
Has anyone pulled together a list of AOLers with blogs? Given that Dave Winer says AOL has 400 techies programming blog software (so not true!), you'd think there'd be lots of bloggers, eh? The only AOL bloggers I am aware of who are actively blogging are
Erin Malone
, and Chris Johnson, though there are surely more. Netscaper
Andrew Woolridge
is into blogging in a big way, but it's not connected to his day job.
Big Biz & Innovation Summit?
Just got the weekly AlwaysOn Rap email from Tony Perkins and was a little bemused to see that AOL's Jon Miller is going to speak at his
Stanford event. July 15-17th.
Perkins says this adds "even more momenteum to the event."
Is it possible to have an Innovation Summit where a focal point is being able to talk to and run up against thje CEOs of really big, mature companies, people who might be able to give you a job, or throw your company some significant business?
Can big companies be innovative?
If the point is to get a lot of really smart people into a room and have them talk about innovation, I get that. Jon Miller is really smart and he's helped move AOL along from the mess it was in two years ago. There is no question it is now in a smaller mess than it was then.
But I wonder how much the " heavy weights all poised to be part of the always-on revolution" really understand innovation...or am I missing the point here?
Monday, May 19, 2003
Oldies and still goodies
Judith Donath's The Sociable Web and Mark Granovetter's The Strength of Weak Ties" were both big influences when I read themin the 90s.
Corante
is picking them both up...good stuff.
Pet your roach, honey
Reuters says that
Australians
are keeping giant roaches as pets. They're not keeping those nasty little German roaches(brown), or the big fisty Palmetto bugs, nah, it's the down under premiumn pests that have pet cachet: the giant burrowing cockroach and the rhinoceros cockroach both native to Australia, and found in the warm, northeastern state of Queensland.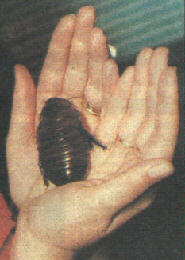 Accordng to Reuters, "
These gigantic cockroaches, officially called Macropanesthia Rhinoceros, grow as big as the palm of a hand, measuring about three inches and weighing just over an ounce. They are also known to live up to 10 years.
"
Hmmn....maybe my cat would like one as a pet.
(Via
Amish Tech Support
)
AOL Broadband: Will growth slow?
Department of Let's pray this ain't true:
The number of people with high-speed Internet connections to their homes increased 50 percent in the 12 months, but it looks like conversion to high-speed access is slowing down. Stories
here
.
Dirt: But Jayson Blair was a nice guy!
The Jayson Blair had a problem he was struggling with and he never acted like an entitled twit so I feel bad for him stories are leaking out now, along with info about his supposed coke and alcohol abuse and treatment.
A piece in the Morning news about
how nice he was
to the writer.
Wash Post
: I met Jayson Blair ten years ago...
Cuppa Tea:
He was a nice guy
This guy should NOT profit financially from what he did!--But he probably will.
Sunday, May 18, 2003
Dave Winer: If you want to be in Google, You gotta be on the Web
Dave Winer, former Netscape engineer and developer of RSS, sometimes seems as powerful and as feared as
Aunty Entity
, the Tina Turner character ruling the Thunderdome, but he knows his stuff.
In an entry
in his blog
today, Winer points out how pages that are locked behind paid databases--like those published by the NY Times--get less page views than those out free on the web. Conclusion: if you want to show up in Google's search results, make your pages reachable by Google.
Winer:
"
Weblogs, on the other hand, are not only on the Web, but beautifully organized for search and retrieval. Google is just indexing what's on the Web. Most print pubs aren't there...There's basically a very simple rule. If you want to be in Google, you gotta be on the Web. "
Art: George Ahgupuk & Rockwell Kent
One of my favorite artists from the 1930s is
Rockwell Kent,
the painter, illustrator, and designer. Kent combined a passion for art with a love of the outdoors, and
did much of his finest work
camped out on expeditions to Alaska, Greenland, and other remote & rustic areas. This afternoon, up in Hastings on Hudson, I bought a copy of Greenland, Kent's book about his sojourn there.
I also learned that a new art exhibit of Eskimo drawings opens
this week
in a summer exhibit at the Anchorage Museum of Art and History, and that one of the featured artists is by
George Aden Ahgupuk
,. Apgupuk is an Alaskan Inupiat artist whose mentor was Rockwell Kent, who discovered him on a trip to Alaska.
According to Russell Hartman and Dinah Houghtaling, writing on
Native Alaskan Graphic Arts
: Founding Artists , in 1936, American artist Rockwell Kent purchased some of
Ahgupuk's drawings
while on a trip to Alaska. Although the two artists did not personally meet, Kent proclaimed Ahgupuk a great artist and arranged for his induction into the American Artists Group. Kent also propelled Time Magazine and The New York Times to write feature articles about him, which led to book illustration assignments.
Kent, who feel out of favor in the 50's for his socialistic beliefs and curmudgeonly views about "modern" art (ie, he HATED abstractionism). An easy way to see why I like his so much is is read one of his books or look at some of his prints, woodcuts and paintings. Here are a few, all available for sale from the
Aaron Gallery
: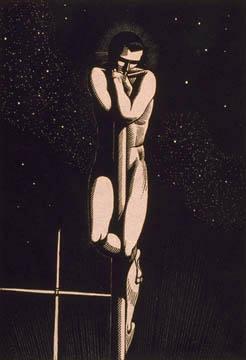 The most complete collection of Kent's work is in Plattsburgh, New York at the
Art Museum
at SUNY Plattsburgh. Good links to his work are at
Artcyclopedia
the
Smithsonian Magazine.
m and an Alaskan department of education page about his book Wilderness,
here.
Here's a pix of the artist from the 30s--I was surprised at how contemporary it appears.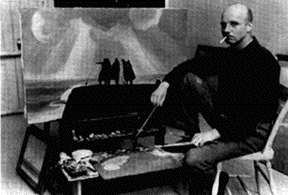 \
Saturday, May 17, 2003
Yummish: Foodblog & breadcoffeechocolateyoga
Just found
Kips' Foodblog
...I know it's a good food website when reading makes me want to click, cook, eat, not neccessarily in that order. Lots of links to other sites, descriptions of meals and recipes, and photos.
No RSS..too bad, I am still in love with my newsmonster reader.
breadcoffeechocolateyoga
is also neat, First of all, this person likes coffee and chocolate, and second of all, they're into brazilian music and acid jazz..what could be bad?
AOL: Buddy Icons that don't suck

Via David at
BoingBoing
,
BadAss Buddy Icons
, a site to grab uh, unique icons for your AOL IM tools.
Star Kids: Securing those domain names early
According to Wales.co.uk, Michael Douglass and Catherine Zeta-Jones
have registered
a dozen Internet addresses aka URLS for baby Carys Zeta Douglas, born on April 20 this year. More details in this story in the
Mirror.
Baby son Dylan's name is already registered to Michael Douglas@ P.O. Box 49054, Los Angeles, CA 90049, fanclub@michaeldouglas.com
A quick check reveals that the domains for Rolling Stone kids JamesJaggar.com, Elizabeth Jaggar.com, and ScarlettJaggar.com are all unsecured.
Hmmn.
Blogging: The T-shirt
"Friends don't let friends blog drunk"
If you want to show the world you're a blogger, or just have hip, amazing obscure slogans on your chest, check out Paul Frankenstein's
Cafe Shop with assorted merch
from Gawker, JaneGalt, and lots of other folks who hopefully didn't think this enterprise would pay the rent on the 1 bedroom.
Quwstion: Does
Eizabeth Spiers
wear the Gawker throng? Might be great shwag to send the Hilton sisters--Paris seems to always need new panties.
Missed it again: NYC Bloggers Bash
Missed it again! The
NYC BLoggers bash
was last night, and at the last minute I couldn't go.
We're selling our house, and I had to go home and deal with getting it ready for the wave of realtors heading through the door today.
It must have been a great time tho--it was at that cool bar down in the subway in midtown in the West Side and lots of people I hope I get to meet next time were there: Paul Frankenstein, Jane Galt, Shelia the Redhead, etc. And Anil, of course, who I know and think is great.
I think everyone who went there is still asleep--will point later to any cool pix that go up...and all the blog entries the folks have gotta post.

New Word: Blogeoisie
New word for the blogging compelled: blogeoisie, the class of people who read and write blogs, coined buy Bill Thmpson from the BBC and
reported
by BBC's Ten Things We Didn't Know This Time Last Week.
Thanks
Luke Hopwood, dev/null
NY Times: Dating a Blogger story
Amusing
NYC Times piece
on spilling your guts in cyberspace--stories of the venting, ranting and naif who let loose and get busted (as opposed to those of us who just put it out there, k nowing everyone in our life will see, eventually.)
Proof blogging is entertaining mainstream is Times covering it as lifestyle story, as opposed to Tech.
Blogger's Delight:new links to SMB!
Ah, the sweet rewards of the blogging world. Four new bloggers linked to me yesterday!
Redheaded Ramblings: Shelia A-Stray
, an interesting blog that is a combination of a personal diary and sharp observations--well worth reading;
Travelers Diagram
, a NYC blog with interesting notes--and phots--on art, the city, music & more;
the rompe blog
, from Germany!; Aron Bailey's
601am
, a wonderful blog of morning NY goodness. Thanks for finding this interesting--we aim to serve it up hot, fresh, and delicious.
Friday, May 16, 2003
One Thousand (Cloned) Trees: Natalie Jeremijenko's Art

Today BoingBoing
highlighted
environmental artist Natalie Jeremijenko's new "
One Tree(s)" project
which involves planting 1,000 clones of the same tree in various places and monitoring what happens. My friend
Steven Madoff
has written about Natalie's work and had discussed it with me; great to see this getting play on
BoingBoing,
one of my favorite blogs (okay, maybe my favorite). The show is at Pond, info
here.
A 1999 Rockefeller Fellow,
Jeremijenko
has done projects for
MassMOCA
and was named one of the top one hundred young innovators by the MIT Technology Review.Here's a link to an
amazing paper
(PDF) she wrote about product design, and a link to
The Biotech Hobbyist
, an online magazine she produced 1998-2001. This zine is "
THE place on the Web for biotech tinkerers, builders, experimenters, students, and others who love the intellectual
challenge and stimulation of hobby biotech !"
(a little conceptual art, mebbe?)
More links
here.
I just realized that her initias are the same as New Jersey--NJ.
This must mean my brain has died but I am still typing. Uh-oh.
News: Teacher files against No Child Left Behind Act
According to
KCTV
, Kansas City, Kansas, Brian K. Kegerreis of Roeland Park, Kansas, a middle school special education teacher, filed a lawsuit against the U.S. Department of Education on Thursday claiming that the No Child Left Behind education act is unconstitutional.
The law requires that all public school students be academically proficient by 2014, and specifies penalties for schools that don't measure up. According to KCTV, Kansas, Kegerreis feels the law could is a barrier to providing quality education.
More stories
here
.
AOL: Colburne doesn't remember
Story in
CNN Money today
explaining how documents filed as part of a deposition to the SEC by David COlbunr last summer offer interesting detail--or a lack of them--about the pPurchase Pro deal under scrutiny. According to the article, Colburne says he doesn't remember details of key meetings, but he doesn offer some details about his deputy Eric Keller, who was put on leave at AOL as a response to the SEC inquiry.
Quote:
"In his deposition, Colburn described a conversation he had with Joe Ripp, then AOL's chief financial officer and now the vice-chairman of the AOL division, and Keller. Colburn said he had "concern," which was shared by other "senior executives," that Keller was "not fully forthcoming" about a $12.2 million AOL transaction with Purchase Pro. Not long after that conversation, Keller was placed on leave. Colburn and a human resource manager notified Keller, but despite prodding from an SEC lawyer, Colburn testified that he couldn't recall details of that conversation
. " (More
here
.)
News: Check this
Richard Branson
buys an Australian island to use for staff holiday retreat
DIA: Beacon
set to open
, with much press fanfare and
rising real estate prices
in town.
Beatle wife
Heather Mills
insists
she would be "happy to live in a shed" with Sir Paul.
LA director Adam Shankman
is suing
Jennifer Lopez
for $6MM for ripping off his idea of doing a big-screen adaption of Carmen with the singer.
Family ties: Giants coach Fassel reunited with son put up for adoption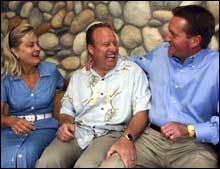 Denver post photo
34 years ago, then teen-aged couple John and Kitty Fassel put their out of weblock baby up for adoption. This week, the Fassels reunited with their son, now the father of four and a resident of Denver. The New York Times
ran a heart-warming story
on this event, including very generous an dloving quotes from Dorothy Rogers, the sons adopted mother.
More recent stories on this one
here.
Pack and Go: Taking your yoga instructor on the road
New York Times
article today
on a growing trend for the affluent NY/LA set to take their yoga instructor on the road when they travel. Quote from a hotel mogul:
"It's important to travel with someone you can depend on and trust, someone who helps you better your life. now more than ever...Even though taking a chef, trainer, Pilates, and sometimes a yoga instructor with me to St. Barts, the Hamptons and Europe is a way I nuture myself and take care of my health, it may sound frivolous to people who don't understand."
No, not really. We understand that your psychic is afraid to fly.
Thursday, May 15, 2003
AOL News, more execs & shareholder's meeting
New execs adding to the mix
Ned Brody, who was CFO at Looksmart, is joining AOL as SVP for premium services, reporting to Broadband head Lisa Hook,
reports
Business Week and CNET. An AOL
release
today quotes Lisa Hook, "I'm excited about the opportunity we have to reinforce the consumer relationships at the heart of our business and create incremental revenues by providing members with quality premium services. Already, we've made good progress with the recent launch of premium services in the voice, music and anti-virus categories. Ned is a first-rate business strategist and manager, and I know that he will be a great asset to us as we continue to build our premium services business."
Brody left Looksmart in 2001
and was replaced
by Martha Clark. Shares of Looksmart fell 43% last week when the compant announced greatly reduced results for the most recent quarter.
In the past six months, AOL has added some very talented people to their team: Tina Sharkey, Deanna Brown both came from the NY media world; Ned Desmond was brought in from Time, Inc. AOL also
recruited
Joe McCambley from Boston-based ad agency Digitas to run the Studio division, where all the pages are built. Hopefully, these folks will help make some hits.
Shareholder's meeting
AOL's next shareholder's meeting, at which Richard Parsons becomes chairman, is this Friday. The Associated Press
is predicting
shareholder drama at the meeting, given that shares have fallen 30 percent since last year, despite leaders' vows to get thing back on track and assurances we've hit bottom. Since the merger was completed, in 2001, AOL TW shares have lost 70% of their value, as we all know.
Wednesday, May 14, 2003
Department of Scary Stuff: California Autism Rate Doubles
According to a recent report by the California Department of Developmental Services, the number of children with autism in California has nearly doubled in the last four years and continues to grow as researchers struggle to identify the cause of the incurable developmental disorder. Reported in
SF Gate
.
New Blog: Newbie Mind: blogging as a communications and learning tool
I broke down and started a
new blog
where I can focus on writing about blogging as a communications and learning tool. Am interested in promoting and supporting blogs as a tool for teacher professional development and curriculumn exchange, group discussion, and community building.
Newbie Mind
will focus on those topics and on what is being said and done in those areas. It will also contain tips, links, and best practices.
Test: New blogger tools
I'm posting this with DANO, the new blogger platform. The tool allowed me to set up an RSS feed automatically, but Newsmonster can't find it--yet. I am hoping that publishing this item, and having weblogs.com note changes will make the new RSS feed visible. Here goes.

Business, California, Internet
Department of Vacant Buildings: eBay purchases San Jose campus & city officials kvell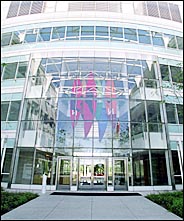 According to a story in
today's New York Times
, eBay is buying a vast San Jose office campus for future expansion. This is big news in a town filled with vacant dot-bomb office parks and emptying apartment complexes.
"This gives me hope,"
says Mike Fox Jr.
, chairman of the San Jose Silicon Valley Chamber of Commerce and president of M.E. Fox & Co. Inc. Distribution Co. "The most successful dot-com company in the world has chosen to stay here. That's good for the psyche."
San Jose Merc story
here
.
NYC, photos
Tuesday, May 13, 2003
News; Gossiplist
Gossip: New Gossiplist is out
The new
Gossiplist
is out and it's a doozy. Blind items about John Goodman, Sarah Michelle Gellar, Gavin Rossdale, Fran Drescher, Cameron Douglas and others are explicated with care, as we used to say in English class.
Is it all true? Who knows--probably not, but mucho fun to read.
Business: EXECUTIVE SHUFFLE: Kevin Conroy promoted at AOL
EXECUTIVE SHUFFLE: Kevin Conroy promoted at AOL
Read the announcement this morning that Kevin Conroy's been promoted to EVP and head of broadband for AOL. I remember when
Kevin joined
AOL to lead the music team back in 2001. He came from BMG, where he'd worked with
Napster
and took a unit that needed a lot of work and made it into a powerful force for consumers, and for AOL's bottom line. Kevin has always been one of the people at AOL who planned carefully to get things done. His move into broadband is a natural extension of his current role and his interests in live and recorded entertainment delivered digitally.
His promotion does make me wonder, however, how the AOL organization is going to shift once again. Will Kevin's entertainment teams move with him, reflecting AOL's continued--and new--emphasis on broadband content as their subscription revenue stream? If yes, that means a significant chunk of the programming group could move off the Programming EVP's bottom line and into another executive's organization.
Or, it's possible that Kevin will move and leave his Entertainment organization in place with a new leader, perhaps his second-in command, and be more of a virtual leader for both teams.
Either way, with Conroy's new role, the internal lines at AOL are redrawn in a way that puts one of AOL's most focused and driving executives into an even more key role..
More stories
here.
Monday, May 12, 2003
Humor: Pesky the Rat
News: The New York Times Doesn't Get It
News: The New York Times Doesn't Get It
It's going to take more than excoriating Jayson Blair to get the Time's to understand how new media models are changig. J.D. Lasica lays it out
here
in a
terrific article
about how the Times just gets it
wrong.
Blogging: Promoting your blog
Promoting your blog
Okay, you're writing the damn thing. You told your friends, your mother, and your ex-colleagues from work. Now what? Short of publishing company secrets, how do you get anyone to visit your blog?
Shirley Kaiser of
Brainstorms and Raves
offers
tips
, including links to Volokh's
Promoting One's Blog
. Tim Swanson has a
Link-0-Rama section
on his blog that lists all the places that will promote, list, and syndicate your blog.Other links that have value:
How To Get Your Web Site Content Syndicated
by Kalena Jordan and DanThies.
One of the best comments in the above advice, however, is to keep at it . It's unrealistic to expect to build a large audience quickly, unless you are writing something very unique. Also, remember that most people unfaimilar with your writing will come to read a specific post, not your blog in general, so focus on alerting people to key posts and hope that builds up a repeat audience.
More tk on this...stay tuned.
More on Jayson Blair: E&P--The Blair Watch Project, or who knew the Times was that wacky?
The press and the blog worlds are going crazy with the revelation in the NY Times denoucement of Jayson Blair.
One of the best alternative views is from
E&P's Greg Mitchell
, who picks apart the tremendously lengthly, painstaking detailed story the Times published about what he called "The Blair Watch Incident."
SF Indymedia
takes another tack in its
story
--that the Times is rotten to the core and demonizing young Blair for its own failings, including pressuring young reporters to write too many stories, wear suits, and smoke outside the building."
ChronWatch
says
"Jayson Blair is journalism's Andy Fastow."
Alternet's
writer
says
"According to some critics, (Blair's) poster boy for the repeal of affirmative action...There are countless reporters of color with proven track records looking for new opportunities. The question is whether outspoken, honest journalists of color are a better fit than con artists like Blair."
Gersh Kuntzman
at Newsweek filed a
column
today making fun of the whole brouhaha. Kuntzman writes:" What will no doubt become known as "The Blair Switch Project" is the greatest journalism scandal since the last time a journalist fabricated stories, became the toast of the town, crashed and burned in a public spectacle of second-guessing, disappeared for a few weeks and then emerged with a six-figure book contract."
Twenty-eight links to this story right now at
Blogdex trackback
.
Sunday, May 11, 2003
Jayson Blair: What is most amazing?
What is more amazing--that the NY Times devoted a front page, meticulously researched article to detailing Jayson Blair's obsessive deceptions and frauds during this time as a writer at the paper--or the slopy, self-serving journalism Blair engaged in?
And what's with folk at the NY Times? Seems like Jonathan Landman was the only one who wanted to move the guy out.
And finally, how sad is this? Watching a promising journalist self-destruct his career is heart-breaking.
Good comments from One Minute Man
here.
Mickey Kraus tears the Times a new one
here
.
Poynter
asks
Can this happen elsewhere?
RSS: Does it work?
This is my RSS test--let's see if I got it to work or not.

PACKING IT UP AND TAKING IT ON THE ROAD: Going bicoastal, not postal
We'll we're about to move forward with those plans to be bicoastal in a major way. Sometime this summer, we're going to move to California, back to the Valley.
Only when Susan Mernit moves anywhere, it's never simple, nope. I'm going to move back West and continue working in New York. Yep, it's that bicoastal thing again.
Live in California, work everywhere. Come back to the City (NY is the only city that never needs a modifier) and see clients and get things done. Come back to the city a a lot. Work in California as well.
Am I completely insane? Well, I might be , but a bi-coastal work life won't be the thing that drives me round the bend--I've done this before. When I worked at AOL, I commuted cross country for a year--almost every week. (Yes, I have amazing miles). Then I commuted up and down from NY to VA, which seemed like a mere trifle after my 6,000 mile excusions.
Truth is, I am very excited about heading back to California-- at heart, I am both an editor/business person and a product developer. While NY is the world's media capital, the Bay area is home to so many brilliant product companies--I realy enjoy the creation that goes on in both places. And I know great people in both places.
So I hopefully will have the best--and worst--of both coasts pretty soon.

Tigers & Pigs: Why can't we all just get along?
From
Betsy Devine's blog
, which I found via
Scott Johnson
: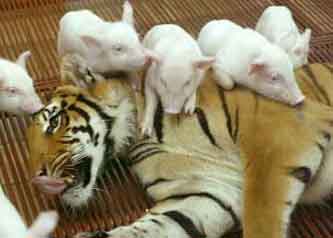 "Sai Mai, a 26-month-old female tiger, plays with baby pigs at a zoo in Chonburi province, 50 miles east of Bangkok, May 7, 2003. The Royal Bengali tigress was born in captivity and breast-fed by a female pig for four months after her birth."
Saturday, May 10, 2003
Brewster Amazing!
The Guardian
on how Brewster and the Internet Archive print books off the webfrom the back of a van--and how they've brought this mission to India.

"It takes about 20 minutes to print out a 300-page Wizard of Oz," says Kahle, "and if you have four printers, you can produce up to 30 books an hour. And you can do an edition of one, which is interesting. Harvard says it costs $2 to lend a book out, then put it back on the shelf, so it's cheaper to give them away."
More
Guardian
"
Having proven the concept, Kahle is hoping that other people are going to take it up. The first Bookmobile has been spun off into Anywhere Books, which is a project of the Rudolf Steiner Foundation. Kahle took the idea to India, and that country now has two bookmobiles on the road, with another 28 to come. The Library of Alexandria, in Egypt, is planning to do one, with the support of Hewlett-Packard and the US embassy. China could follow. With World Bank or similar financing, third world Bookmobiles could even become thriving microbusinesses."
Brewster is one of the people who played a key role in my Internet life--and he has always done interesting and valueable things...way to go, B.
IBM Sharepoint
IBM Sharepoint:
Met someone at a luncheon the other day who was interested in Microsoft Sharepoint as a blogging type tool. Comments by Eric Hancock
here
that I'll pass on to her. Short version: You use it, the borg owns you.
Mitch Ratcliffe rocks: Blog Endorsement
With my new newsreader, I can keep up with more sites, and actually read some of the blogs people keep talking about. I've followed the blogs of Joi Ito, Marc Canter, Nick Denton, Ross Mayfield, Meg Hourihan (a favorite!) and a few other closely enough I feel like the wanna-be watching the popular kids, but I've heard people talk about "Mitch" more than I've read Mitch.
Well, I've been reading Mitch today and hey, I'm going to keep reading Mitch.
Favorite items from today's reading:
Blogging is not the same as journalism
viz a snarky flap about investors flogging bloggers, and
item
on Marty Yudkovitz as new Tivo president.
And finally, the guy clearly reads. He's got some good literary comments in his blog and a clear sense of histroy..always a plus.
And finally, he's got a
definite word
on the squabbling about what is social software and who's entitled to call it that, aka "I'm the boss of this playground/office/clique" whatever. For those of us who weren't part of the blogging scene back at the dawn of time 3-4 years ago cause our heads were stuck up the butt of the web, these arguements--oh, I mean discussions--don't have the resonance they do for the old guard.
Anyway, check out
Mitch.
RECENT NEWS TO NOTE
BBC: Dogs and cats being farmed for skins in Europe and China. Story
here
WSJ: Women think Bush is a hottie in a flight suit.
Here
.
BBC: Monkeys cannot write Shakespeare.
Uh-duh
.